Hi everyone!! I wanted to do a special edition blog post today because I'm so very excited about iNSD this weekend! Not really sure what iNSD is?
Check out this site to learn a bit more about the history of the day:
I will be having HUGE sales in all of my stores this weekend (4/30-5/2), I have three amazing new grabbags going on sale Friday too! Plus some special edition speed scrapping fun, contests in the forums, coupon giveaways on Twitter & on my Facebook fan page! Oh & a blog train will be pulling through here over the weekend too. There is so much going on, I'm just overjoyed!
I'll be participating in the GottaPixel blog train this weekend, be sure to stop by here Saturday & hop on board!
Here is the sales ad for Gotta Pixel!

Here is the low down for all the sales & fun events happening at
Scrap Matters!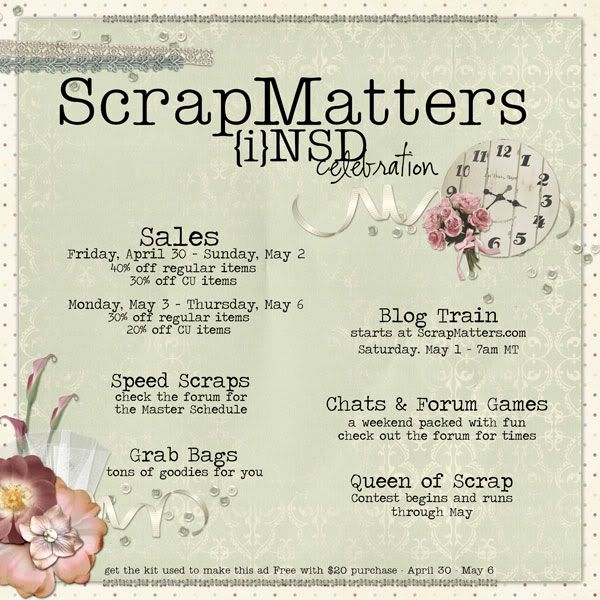 Check out these fabulous deals from Elemental Scraps!

Don't forget to join me for Speed Scraps this weekend at Gotta Pixel!
I'll be back tomorrow with some sneak peeks of my grabbags & a new freebie too! Hope to see you then :)
Connie Prince